ALTDRIVE  Rail Locomotive
When Fred Stanford, former President & CEO of Torex Gold Resources first imagined a more efficient way to mine ore, he foresaw a return to rail. The culmination of this thought, over 30 years later, is the Muckahi System engineered by MEDATech in close collaboration with Stanford.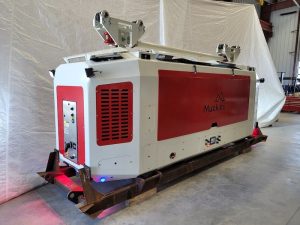 Muckahi is a monorail mining system, a surgical way to mine narrower ore bodies more efficiently. It involves three logistical paradigm shifts: steep ramps (¼ the length of conventional ramps), roof-mounted monorails and equipment to run on them, and minimal underground infrastructure.
The technology is expected to significantly reduce Capex, Opex, and cut time-to-revenue by as much as 80%. Oh, and by the way, it will produce 95% fewer underground greenhouse gas emissions. In an industry increasingly in search of not only efficiencies but also environmental, social, and governance (ESG) credits, that's an attractive proposition. Read more about the Muckahi system
A battery-electric locomotive
What's silent, powerful and charges up as it goes downhill?
You guessed it: the ALTDRIVE Rail Locomotive (the ARL), a modern battery-electric locomotive. ALTDRIVE is a division of MEDATech that has been building EV drive/battery systems for over ten years. The systems are typically used in conventional vehicles like the Western Star 4900XD-e one of which Teck Resources just bought for hauling ore. This is the first monorail application and the first that uses hydrostatic drive.
Miners have found diesel locomotives proved, to be hot, dirty, and slow. The decision to move to lithium-ion battery-electric comes down to an equation based on steep grades, high speed, power requirements, heat generation, and a healthy workplace. 
Regardless of the energy source, the locomotive's job is to shunt people, ore, and equipment around the mine: drills, work platforms, and all the other equipment purpose-built for the Muckahi monorail system. Operating on a bi-directional looped track hung from bolts sunk into the roof of the drift or heading, the ARL is built for grades of up to 30 degrees and a maximum speed of 7m/s (currently regulated to 3.3 m/s).
Continuous run time
One of Mukahi's most important goals is to ensure continuous, 24/7 drilling and hauling. Keeping batteries charged is usually a challenge for battery-operated vehicles. With the ALTDRIVE system, however, you can charge in three ways: using regenerative braking, by plugging into grid power, or via a grid-power busbar.
Locomotives will be sized to the job they are required to do. In the case of hauling ore or waste up a steep ramp, the battery systems will be designed to do that while accepting power from the busbar. If they are working in the production zones, the batteries will be smaller. In every case, locomotives will be configured so as to ensure continuous run time. 
Optimal modularity
The current ARL is a 100-kW unit capable of transporting people, all equipment, and smaller loads of ore and waste. The Muckahi monorail system can support 60-metric-ton loads, but pulling that weight of ore or waste uphill will require a 300-kW unit.
While building a 300-kW locomotive is an optimal solution, the ARL can be quickly configured to add as much battery power as required. That's because it has a hydrostatic drive system, allowing the locomotive to be configurable in a way that electric-only is not: simply couple as many drive units and battery systems to the locomotive as required and you've got all the power you need. 
What's in the box
As it stands, the ARL locomotive is approximately fourteen by four feet. It contains a battery array, a hydraulic power unit, as well as charge and brake pumps, battery and temperature management systems (TMS), chargers, A/C and D/C panels, lighting, controllers, and the vehicle management unit (VMU). Operator cabs go on either end of the train. An operator simply hooks up to the unit required and drives away. 
The Muckahi system works foe underground mining. The final step towards total electrification is the locomotive; the ARL – now complete.