Robotic drill-rod handling boosts workplace safety, supercharges productivity
One of the great things about technology is that it's quickly making workplace injuries into a thing of the past. Better ventilation systems protect miners from fumes and dust, while all manner of mechanized equipment puts operators safely into the driver's seat and out of harm's way. 
One big exception, until recently, was adding and removing rod and casing during drilling. This typically involves a crew of two or three moving heavy metal cylinders from rack to drill head or vice-versa. 
"Hand bombing drill pipe is a recipe for accidents," observes Rob Rennie, President of MEDATech. "It's one of the leading causes of on-the-job injuries in drilling, not to mention time-consuming." Because of their weight, rod and casing lengths are typically limited to 5 feet, meaning that 60 pieces of each are needed for a 120-foot shaft.
RodBot to the rescue
MEDATech's Borterra drilling division recently unveiled RodBot™, which solves both problems: safety and productivity. It's a hydraulic robotic pipe handler designed specifically for loading and unloading drill rods and casing. It's suitable for mining, construction and the oil & gas industry, as it can be adapted to work on virtually any piece of drilling equipment. Mounted to a drill rig or a pipe truck, RodBot is an easy tool for operators to master thanks to its embedded collision-avoidance capabilities.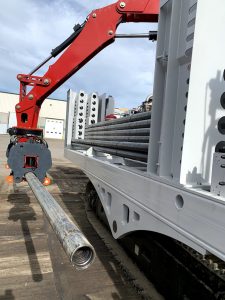 "Most hydraulic equipment is still entirely operator-controlled," observes Rennie. "That's an invitation for human error and accidents. We've made it super simple to stay safe and as efficient as possible."
RodBot has three control modes: from full manual, where the operator controls movement every step of the way, to semi-automatic where the operator pre-determines a path that the RodBot™ moves along with every consecutive piece of casing or rod. The result is smooth loading, movement to mast and insertion at just the right angle.  
A robot that chooses the safest path
RodBot has what robotics engineers call "go" and "no-go" areas: zones within the arm's reach where it's safe to operate and zones where it's not. That includes defining zones where there is equipment in the way and must be avoided. 
"The technology has come a long way," says Rennie. "We've got a great video where we have defined a virtual floor and a virtual ceiling. The robot knows how long the pipe it's holding is and won't allow it to go outside of those parameters. You can define an area where equipment is sitting and the arm will find the most efficient path to the mast while completely avoiding the ground, the rig, and the equipment."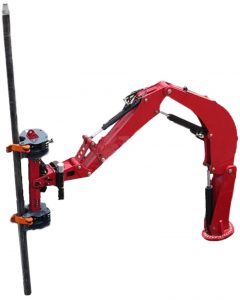 With RodBot, an operator can program a starting point, an ending point, and the robot will calculate the most efficient path, including navigating around any defined obstacles, using collision-avoidance software built into the robotic operating software. "It can do those computations very quickly and the arm can move much faster than any operator could manage, more safely," observes Rennie. "The interface used to define these things takes no more skill than a normal hydraulic-equipment operator would be expected to have." 
RodBot control modes 
Full Manual

Control. The operator has manual control of each moving element of the arm.

Tip Control.

 

Computer assistance allows the operator to control the arm moving the drill pipe in a linear motion. Single-axis input on the joysticks translates to the pipe, moving in a straight line either vertically or horizontally out from the arm base.

Autonomous Control (User-Defined Path).

The RodBot moves along a path determined by the operator and/or automatically adapted to the current mast position. The operator has hands-on control and can start/stop at any time if safety is in question. 
RodBot mounting & powerpack
Borterra can supply an engineered mounting solution to meet customer needs, or simply the information required for mounting on a 36" x 36" base. We can also supply a dedicated hydraulic powerpack (diesel, gas, or electric), help integrate your existing hydraulic system, or supply you with the information you need to do it on your own.
Act now
RodBot is currently in use in embankment dam drilling in Alabama. There's no need to wait for drill rig replacement to start using RodBot, as it can be retrofitted onto most rig configurations. If worker safety and production speed are important to your organization, view our live demonstration at www.medatech.ca/rodbot or contact us at (705)-443-8440 or sales@medatech.ca.