The science behind EV fleet planning
Industrial battery-electric vehicles work as hard or harder than diesel versions, with clear environmental and health benefits. You want financial benefits too, but how can you be sure you're making the right choices?
Is your chosen vehicle really suitable for the work? Can it capture all the battery regeneration that downhill tramming can deliver? What kind of charging model is most efficient? Should you buy batteries or lease them?
You wouldn't build a mine without mine-planning software like Deswik…now you can plan electrification in much the same way. We answer all of these questions, and many more, with MEDATech Electric Vehicle Fleet Optimization Software (EV-FOS).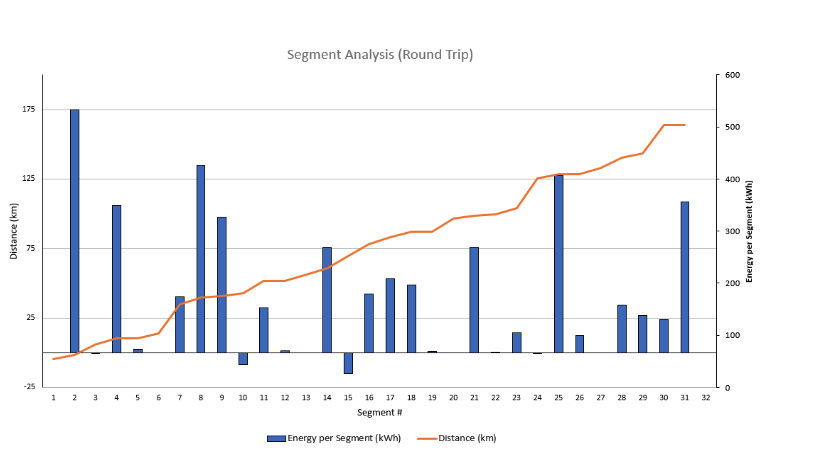 Calculating the inputs
Deciding on factors like battery size, fast-charging versus battery swapping, charger location and class of vehicle can save or cost you millions of dollars over life of mine. Want to know which routes are most ripe for electrification? Finding the optimal mix depends on routes and grades, distance to the surface, environmental dust and humidity, and many other factors.
There's a lot to consider. So how do you take everything into account and make efficient choices?

It's a matter of modelling. MEDATech Electric Vehicle Fleet Optimization Software (EV-FOS) takes all inputs into account in calculating the cost and efficiency, in dollars per tonne, of different vehicle and infrastructure options.
EV FOS shows where to most efficiently locate charging stations and whether to go with battery swapping, fast-charging, or a mix of both. It also shows the optimal battery size and type that each vehicle needs per work cycle, depending on the route.
Example: charge rates & tramming
Many, many calculations add up to a predictable cost per tonne and Total Cost of Ownership. For example, with downhill haulage you'll want to maximize regenerative braking to recharge batteries. However, most OEM batteries have a 0.5C charge rate. This means that the max charge rate on a 300 kWh battery is 150kw. If regenerative braking on a certain route is going to generate 200kW of power, the machine will have to engage the mechanical brakes, which need to be sized properly to effectively slow and stop the vehicle.
A 300 kWh battery with a 1C charge rate can recharge at a rate of 300kW. These batteries are more expensive, but can reduce charge time and electricity cost as well as saving on brakes and maintenance. The question is, what's the best option?

Major miners don't guess. They know.
EV-FOS is the product of a multi-year collaboration between MEDATech Engineering and McMaster University's Bauman Lab for Electrified Powertrain Research. Major miners like Anglo American, Glencore and Newmont are currently using our EV-FOS services to optimize operations and save cost while reducing CO2 emissions. Find out how you can, too.
Ready To Learn More?
To find out more about EV-FOS, or to discuss your particular fleet-electrification needs, please use the form below. We will be in touch shortly.